DEEPCOOL MATREXX 70 ADD-RGB 3F
MATREXX 70 ADD-RGB 3F is a new-concept chassis specially designed for the enjoyment of DIY. By adopting numerous novel structural designs, its architecture yields convenience and flexibility in PC building. Meanwhile 3 * CF 120 RGB fans and 1* RGB LED strip are included to provide top-notch lighting effects. MATREXX 70 ADD-RGB 3F is ready to give you a boost of the gaming ambience.
Online Shop in Thailand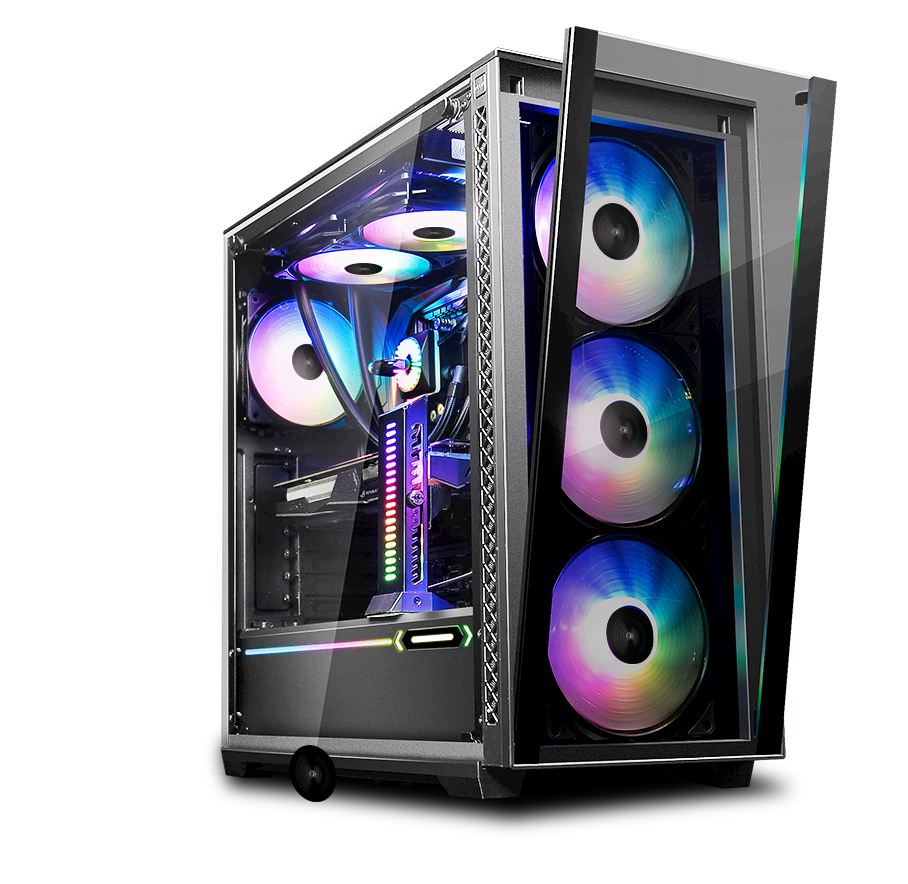 | | |
| --- | --- |
| | |
| For DEEPCOOL/GAMERSTORM devices | For other brand devices |
Removable radiator/fan Holder
The radiator/fan holder simplifies the installation and replacement of the radiator and fan, it's especially effort-saving when you need to install the radiator and the fan on the different sides of the holder.
Removable Glass PSU Shroud
In MATREXX 70 ADD-RGB 3F, DEEPCOOL creatively used tinted glass as the top cover of PSU shroud, which is pioneering in the industry.  The tinted glass can hide the power cables while reflecting the RGB lighting of your other parts, especially GPU, hence creating an infinite space visual effect. Effect Diagram of Light Bars Installed on the Power Shield (RGB Light Bars are included)
Flexible Ventilation Solutions with Excellent Performance
With air intake options at front and bottom, exhaust options at the top and rear, MATREXX 70 ADD-RGB 3F provides highly flexible ventilation solutions. Meanwhile the 15mm-wide front intake hole guarantees sufficient air supply, together with the low friction material applied on all meshes, the cooling efficiency is maximized.

Simple & Sleek Design

The front and side panels are made of full-sized, tinted tempered glass. They display your gears with a classy filter while keeping the overall look clean .

Motherboard support

E-ATX( Up to 330mm )

ATX

Micro-ATX

Mini-ITX

All-round Dust Proof

Dust filters are installed at the front, top and bottom of the case.The all-round and fine coverage offers remarkable dust-proof capabilities. Meanwhile the top filter is magnetic whereas the front/bottom filters are inserted, which makes them very easy to clean.

Abundant Storage Support

A total of 6* 2.5'' drives or 4*2.5'' + 2* 3.5'' drives can be mounted in MATREXX 70. 2 SSD bays are fixed at the back of motherboard tray for quick installation. 2* 3.5/2.5'' hard drive bays are mounted at the bottom of the case which are relocatable and removable.After removal, 2*120mm fans can be installed at the location.

Spacious Interior

The case's dimensions are 484×233×492mm, offering gigantic room to manage cables (170mm motherboard tray-to-glass clearance, 30mm motherboard tray-to-back plate clearance).
Features 
3*CF 120 RGB fans and 1*RGB LED strip pre-installed and synced

Included ADD-RGB system controllable by either case button or motherboard, and compatible to other brands' ADD-RGB products.
Large mid tower case supporting up to E-ATX(330mm) motherboard.
228mm wide tower compartment with 30mm clearance for cable management
Easy-to-install front and side panels
Quick-mounting radiator/fan holders pre-installed at the front
Supports installation of 120/140/240/280/360/420mm radiator liquid cooling system at front , 120/140/240/280/360mm radiator liquid cooling system at top, 120mm radiator liquid cooling system at rear
Removable tempered glass PSU-HDD top cover, offering top-notch lighting ambient.
Magnetic dust filters at the top, insert-in dust filters at bottom and front
Technical Spec
Related Products
You might also interest in this
Excellent Thermal Conductivity

Z3 thermal gel consists of high thermal conductivity to allow high performance heat dissipation.

High Compatibility for Most CPU Cooler

Density of Z3 is compatible with most polished CPU cooler for maximum heat dissipation.

Pure Electrical Insulation

Z3 is designed to prevent electrical damage caused by the thermal paste.