Customizable Addressable RGB LED Lighting
Utilize 12pcs of independently programmable RGB LED lights, CF120 provides full lighting for your build, achieving magical lighting effects with MB controls include 3 dynamic modes(waves, cycles and breathing) and 3 monochrome modes (constant light, breathing and meteor), up to 8 different colors to choose from
Synchronized Control via 5V A-RGB Header on MB
Can be easily controlled by MB through 5V A-RGB Header, no additional controller needed, and can synchronize with other A-RGB devices
Control by Using the Included A-RGB Controller
Use the included A-RGB Controller to control multiple Deepcool RGB devices, up to 6pcs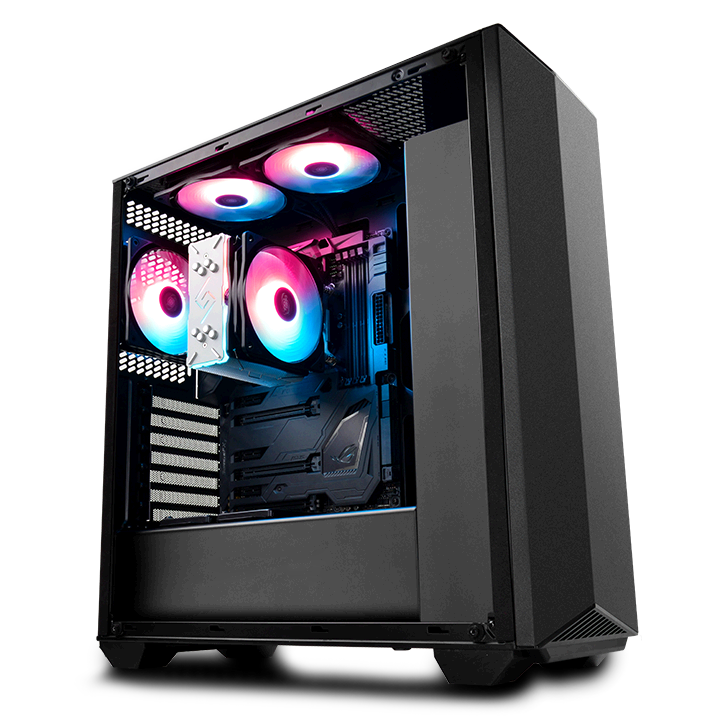 Better Balance on Performance & Low Noise
Better balance on air volume & air pressure, low noise, can be used as a case fan or CPU cooling fan
| | | |
| --- | --- | --- |
| | | |
| PWM Control | Super Silent | ADD-RGB LED |
PWM Intelligent Control
Fan speed can be intelligently controlled by MB in accordance with temperature

Features
Utilize 12pcs of independently programmable RGB LEDs for amazing display effects




*Can be easily controlled by MB through 5V A-RGB Header, no additional controller needed, and can synchronize with other A-RGB devices

Use the included A-RGB Controller to control multiple devices

Fan speed can be intelligently controlled by MB in accordance with temperature

Better balance on air volume & air pressure, low noise, can be used as a case fan or CPU cooling fan




*WS2812B ADD-RGB LED is applied and the below 3pin ADD-RGB Headers are compatible for the device: 5V/D/G and 5V/D/NC/G, which is used for the mainstream M/B brands like ASUS, Gigabyte
Technical Spec
| | |
| --- | --- |
| Fan Dimension | 140X140X26mm |
| Net Weight | 198g |
| Fan Speed | 500±200 -1200±10%RPM |
| Fan Air Flow | 64.13CFM |
| Fan Air Pressure | 1.09mmH2O |
| Fan Noise Level | 19.8~24dB(A) |
| Fan Connector | 4Pin |
| FAN Rated Voltage | 12VDC |
| FAN Operating Voltage | 10.8~13.2VDC |
| FAN Starting Voltage | 7VDC |
| FAN Rated Current | 0.02±15%A-0.09±10%A |
| FAN Power Input | 1.08W |
| Bearing Type | Hydro Bearing |
| LED Type | Addressable RGB LED |
| LED Rated Voltage | 5VDC |
| LED Rated Current | 0.48±10%A |
| LED Rated Power | 2.4W |
| LED Connector | 3pin(+5V-D-G) |
| LED Control | M/B with 5V ADD-RGB Header |
| EAN | 6933412710349 |
| P/N | DP-FA-RGB-CF140-1 |
Related Products
You might also interest in this
MATREXX 70 ADD-RGB 3F is a new-concept chassis specially designed for the enjoyment of DIY. By adopting numerous novel structural designs, its architecture yields convenience and flexibility in PC building. Meanwhile 3 * CF 120 RGB fans and 1* RGB LED strip are included to provide top-notch lighting effects. MATREXX 70 ADD-RGB 3F is ready to give you a boost of the gaming ambience.

Online Shop in Thailand

Excellent Thermal Conductivity

Z3 thermal gel consists of high thermal conductivity to allow high performance heat dissipation.

High Compatibility for Most CPU Cooler

Density of Z3 is compatible with most polished CPU cooler for maximum heat dissipation.

Pure Electrical Insulation

Z3 is designed to prevent electrical damage caused by the thermal paste.